I'm sure we're not the only household to have had their Timmy's budget jump up since the introduction of the breakfast sandwiches. Tom is in love with those heart attack inducing yummies.
To help save us tons of cash I've found a old recipe that, well, are not the same but are in someways better.
Enter Breakfast scones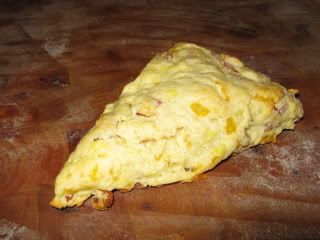 Their just simple plain scones with scrambled eggs, bacon, and cheddar cheese mixed in.
They make a great handheld meal on their own, which makes it easy for Tom to bypass Tim Hortons on his way to the train.
Ingrediants
2 cups Flour
4tsp baking powder
1tsp salt
1/4 cup butter, in chunks
2 eggs, scrambled
4 slices of bacon crispy and corsly chopped
1/2 cup shredded cheddar cheese (we use old)
1/4 cup milk
1 egg
additonal milk for brushing on tops
Preheat oven to 425
Lighty grease baking sheet (put a sheet of parchment or your silpan down)
In a large bowl (or your food processer) combine dry ingredients.
By hand but butter into mix until it becomes crumbly like oatmeal.
Add the cooked eggs, bacon and cheese and toss to mix making sure everything is coated.
In a small bowl beat togther the milk and 1 egg.
Add this to the dry mix and stir together until everything comes together as a sticky dough.
Turn dough onto lightly floured surface and knead a couple times (2-3) until workable.
Pat into a 8" round. Using a sharp knife cut into 6(for huge) 8(for large) 10 (for small) trangles
and arrange them onto your baking sheet.
Brush lightly with milk and bake for 10-12 minutes or until lightly browned on top.