Obviously my husband is enjoying the baking of this house. He's even gotten into it himself. I recently acquired a Gordan Ramsey cookbook.
Only I got it for 50% off. Seriously I have such an addiction to cookbooks that I bought this because I fell in love with 1-2 recipes inside(which I will make and post about soon, Promise). My Bookcase is buckling under the weigh of these books.
Anyways Tom saw a recipe for Oaty Walnut and Cheese Biscuits.
So him and our oldest made them the other day. And of course since a 4 year old was involved, the outcome was cute.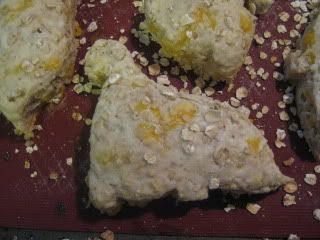 That's right its dinosaurs! These were great, everyone who tried them said yummy things. Though I think when I make them next I'm gonna play with it a bit. They do seem a tad plain and well we are not.